Flange standards used on Viking pumps have been in place for over a century so EVERYONE should be experts on this now…right? It turns out not so much. There are various standards and various design differences in each standard. AND the standards have evolved over the years, leading some to use obsolete terms which only compounds the confusion. The following should help clear up some of this confusion as well as give you a resource to help answer questions for others.
#1: What is a Flange?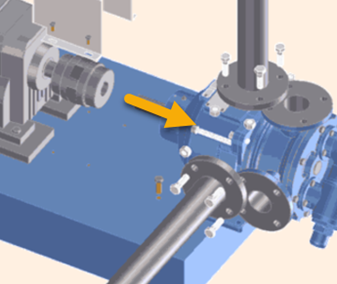 Let's start simple. The word "flange" can have a lot of definitions but in the pump industry it refers to a style of pipe
connection consisting of machined faces that are joined with bolts where a gasket between them provides the seal. This type of connection offers a key advantage over threaded connections; should the pump or sections of pipe need to be removed for inspection, cleaning, or replacement, the bolts can be removed to pull out individual components or sections of pipe. (see fig. 1)
And of course, it's critical that Viking pumps connect with commercially available pipes and fittings. Viking Pump follows a few widely adopted flange standards. It's important to note which flange standard is being followed to ensure the pump supplied will connect correctly with your pipes and equipment. Here are the 3 most common standards followed by Viking Pump:
#2: What is ASME? Are those the same as ANSI flanges?
ASME (American Society of Mechanical Engineers) maintains a set of flange standards commonly used in North America. These standards have evolved since they were first introduced over 100 years ago by the AESC (American Engineering Standards Committee). The AESC was later renamed the ASA (American Standards Association), which was later renamed the USASI (United States of America Standards Institute), which was later renamed ANSI (American National Standards Institute). Confused yet?
The important thing to remember is that while the name has changed, the set of standards has stayed the same (basically). But this has led to confusion…you'll find documentation online at various sites for ASA flanges, ANSI flanges, ASME/ANSI flanges, and ASME flanges. ASME is the current, and technically correct designation for these standards. Don't panic when your specification asks for ANSI flanges…they're the same thing.
#3: ASME flange standards? Is there more than 1?
There are several flange standards that ASME publishes. The ones commonly applied for Viking pumps include:
ASME B16.1 for Cast Iron

ASME B16.5 for Carbon Steel and Stainless Steel

ASME B16.42 for Ductile Iron
Within each there are a variety of classes. The class defines the dimensions of the flange and the pressure rating of a flanged connection created by flanges matching those dimensions in the materials specified.
#4: The specification is asking for 150# flanges. Is that the ASME class?
"#" or "lb" or "pound" ratings are an old designation. Today ASME prefers the term "class". If your specification is asking for 150# flanges, that's the same as Class 150 flanges. Just like the old "ANSI" terminology, "#" ratings yet to be updated can still be found in a lot of online resources.
The term "class" is preferred because using "150#" can lead to the false assumption that the resulting flange connection would be limited to 150 PSI (pounds per square inch). ASME Class 150 flanges are rated to pressures higher than 150 PSI at ambient temperatures. And at very high temperatures these flanges would be rated to pressures lower than 150 PSI. Using the current "class" designation helps clear up this misconception.
These old "#" designations date back to steam ratings which are at elevated temperatures. For example, Class 125 flanges are rated to 125 PSI at 450°F (232°C) but are rated to 200 PSI at ambient temperatures.
Common ASME flange classes used by Viking pumps include:
| | | | |
| --- | --- | --- | --- |
| Pump Casing Material | ASME Standard | Standard | Optional |
| Cast Iron | ASME B16.1 | Class 125 | Class 250 |
| Ductile Iron | ASME B16.42 | Class 150 | Class 300 |
| Carbon Steel | ASME B16.5 | Class 150 | Class 3001, Class 6002 |
| Stainless Steel | ASME B16.5 | Class 150 | Class 300, Class 6002 |
1 Some Viking Pump steel pump series are fitted with Class 300 flanges as standard (i.e. 4193 Series™)
2 This is an uncommon option for Viking Pump and limited to only a few series
#5: Can Class 150 pipes be connected to a cast iron pump with Class 125 flanges?
Yes, Class 150 and Class 125 flanges share common dimensions and can be joined. It's very common that steel pipes are connected to iron pumps. The same rule holds true for Class 300 joined with Class 250 flanges.
It's important to remember that the resulting joint would be limited to the lower of the two pressure ratings. It's also important to remember not to join Class 125 flanges with raised face Class 150 flanges.
#6: What are raised face flanges?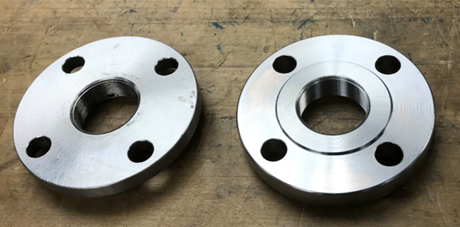 Flanges can be offered flat or with a raised face (see fig. 2). Flat face flanges (commonly noted as "FF") are machined flat across the entire mating surface. Raised face flanges (commonly noted as "RF") feature a raised ring near the middle where the gasket is compressed and sealed. The surrounding surface, where the bolt holes are located, is machined back. This creates more sealing pressure due to less area of the gasket.
Even though the flange is machined slightly thinner than its flat face counterpart, this does not affect the rating.
Raised face flanges should not be used with Class 125 flanges as overtightening of the bolts can lead to cracking of the cast iron flange.
#7: What are DIN flanges and SAE flanges?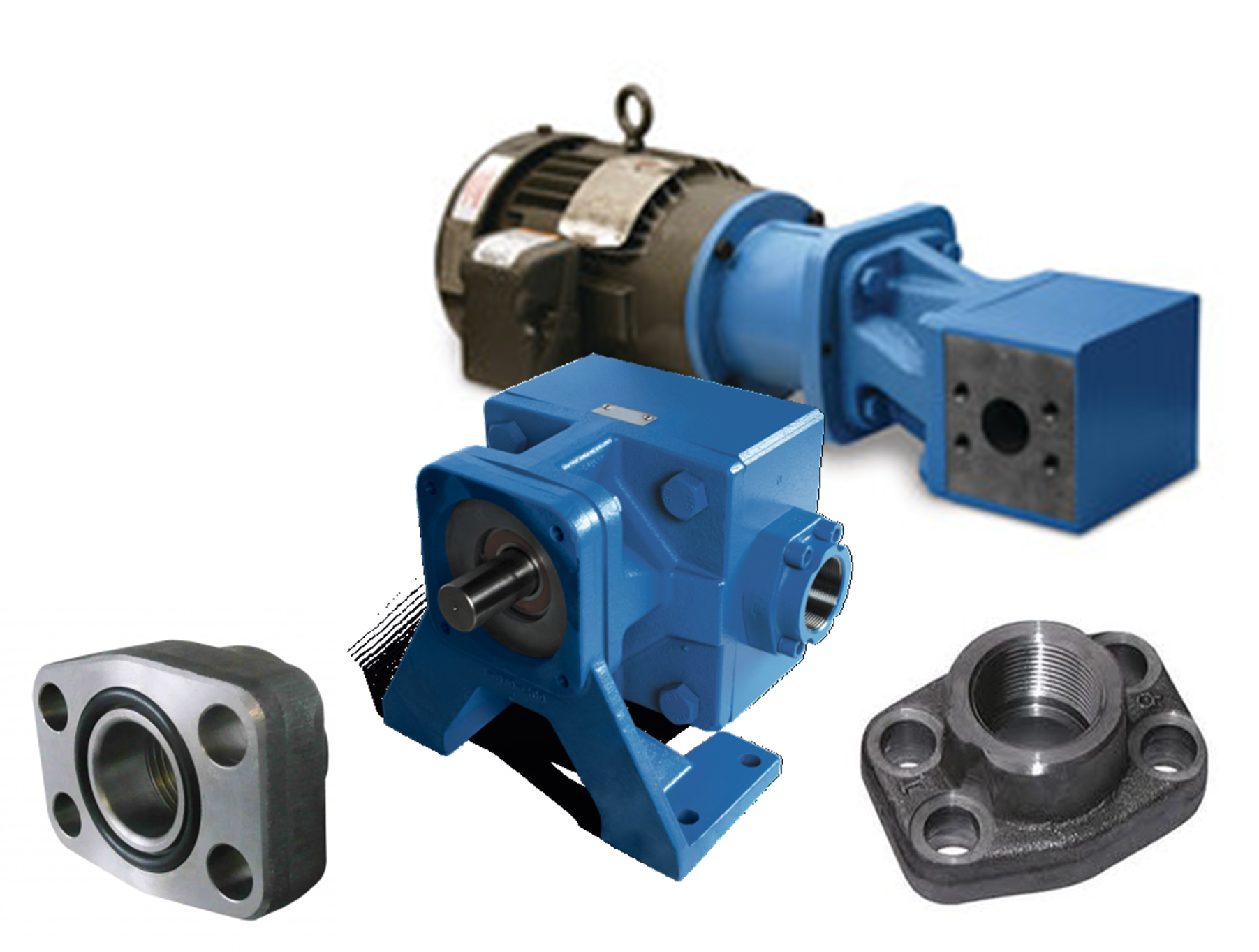 ASME is certainly the most common flange standard used in North America. But in Europe the most common flange standards are DIN (Das Deutsche Institut für Normung or German Institute for Standardization). As you could have likely guessed, these are like ASME flanges in general design, but with metric dimensions and ratings in BAR rather than PSI. One nice change is that the ambient temperature ratings are clearer in the class names for DIN. For example, PN16 flanges are rated to 16 BAR at ambient temperatures.
SAE flanges accommodate higher pressures than ASME or DIN connections. These flanges utilize adaptors that are welded to the pipes or adapt to another connection type. An O-ring in the adaptor creates a seal between the mating surfaces (see fig.3).