Viking Pump Genuine Parts help to ensure that your Viking pump will work at the highest level of efficiency possible. Our dedicated team of application engineers and your local Viking Pump distributor will help to make sure the parts you need are the right fit for your application.
Image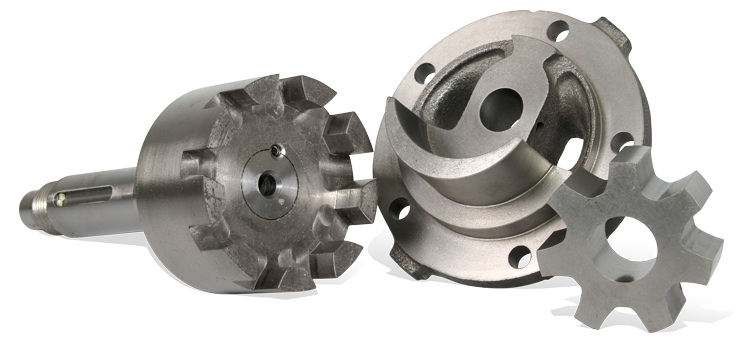 Quality
Extensive quality control

Viking Genuine Parts are made with highly calibrated machines to ensure optimum reliability
Design
Factory made to ensure it meets the exact requirements of your pump

Application specific to meet your unique conditions

ONLY Viking Genuine Parts are specifically designed to meet performance requirements for Viking Pumps
Support
Local distribution to ensure fast delivery and service

All Genuine Parts are backed by a warranty and global stocking distributor network
Viking Pump Advantage
Viking Pump has been making pumps and parts for over 110 years in Cedar Falls, Iowa

With a vertically integrated manufacturing process, Viking Pump has the tools, processes and systems to produce our products in house; from the initial engineering analysis, through design layout, foundry casting, machining, final assembly, testing and shipping.

Viking Pump utilizes state of the art manufacturing machines and processes to provide the highest quality product available

Knock-off parts lack the precision or reliability to that you can count on from Genuine Viking Pump Parts.
Where can I purchase Viking Pump Genuine Parts?
Genuine Viking Pump parts can be purchased from your area stocking distributor. Find your distributor using our lookup tool.
Can I use non-Viking parts in my Viking Pump instead?
We do not recommend using non-Viking parts on Viking Pump equipment. You can always buy an imitation Rolex watch that fools the eye at first glance; but, upon closer inspection, flaws become evident…shorter life spans, increased wear, higher replacement needs. The same goes for imitation industrial gear pumps! If it's not a genuine Viking product, it will not perform up to the high standards of excellence, backed by our extensive research and testing, that delivers long service life; nor will it come with the expert technical support, maintenance and troubleshooting that our global distribution channel provides after implementation. Read more...
Buyers Beware: Having a great product with a great reputation and being a technology inventor like Viking Pump® positions you as a market leader with high visibility. As such, other gear pump manufacturers naturally want to follow in your footsteps. While that is a huge compliment, it also causes confusion among gear pump buyers. Read more...