The Viking Pump ROOTS committee awarded Retrieving Freedom a $5,000 donation to support their local efforts to provide trained service dogs for individuals with disabilities in our community.
Image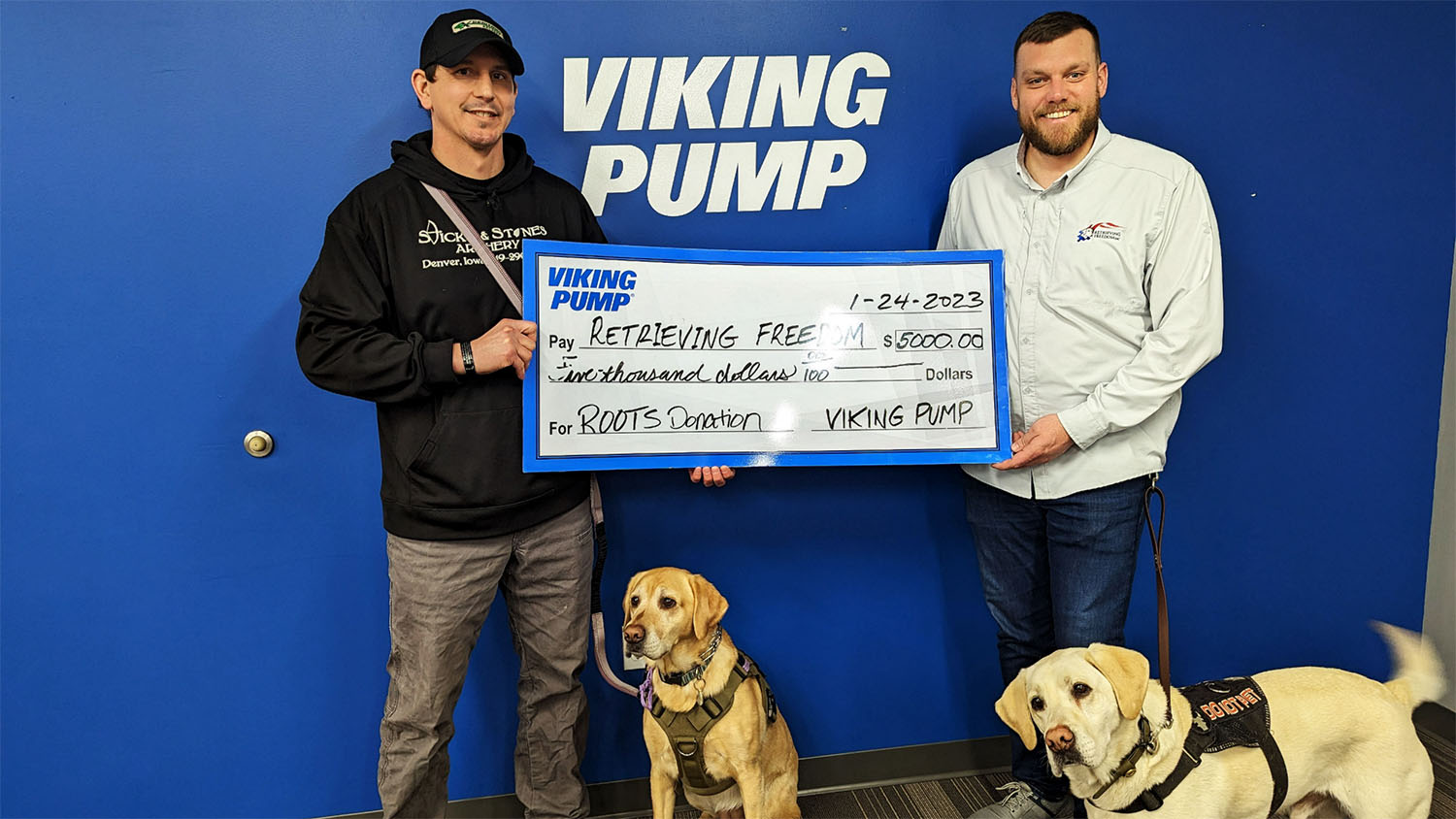 (Left to Right: Tyson Trunkhill, Sadie, Trent Dirks (Resource Development Dir), and Tracer)
Retrieving Freedom operates out of two locations, one in Waverly, Iowa and the other in Missouri. They are a non-profit organization that are accredited by Assistance Dogs International. The mission of Retrieving Freedom is "to change lives through the training and placement of service dogs for veterans with disabilities and children with Autism."
Dogs in the Retrieving Freedom program are chosen based on specific traits necessary to perform tasks to help the individual that they match with. "Our training program isn't designed to train each dog to follow a certain program. Instead, dogs are trained to meet the needs of their specific recipient," their website says. Dogs must go through two years of training to meet Retrieving Freedom's strict standards in order to have a successful placement.
The $5,000 donation will go towards resources for dogs in training. It will also help with the placement of dogs ready to meet their recipient to begin a life-changing journey together.
For more information on retrieving freedom and to read about the good they do in our community, visit https://www.retrievingfreedom.org/. And a big THANK YOU to Retrieving Freedom for making a big impact in our community!
ROOTS (Recognizing Our Opportunity to Serve) is a committee of Viking Pump employees whose mission it is to "improve the quality of life in our local communities through acts of service, donations, and strategic partnerships". Members of the committee rotate in and out year-to-year giving every employee a chance to participate.