Andrew Ragen, President & CEO of Rogers Machinery, was interviewed to learn more about the company's working relationship with Viking Pump.
Background
Rogers Machinery Company, Inc. was co-founded in 1949 by two war buddies, Ned Rogers and Walter M. Novak, who served together aboard the USS Reno in the South Pacific during WWII. These like-minded veterans followed their dream to build a business providing compressed air equipment and pumps to the Pacific Northwest (Portland, Oregon), home to the pulp and paper, aluminum, agriculture, and food processing industries. Since they were far away from key suppliers on the East Coast, the company did their own customized packaging of products from Day 1; and to fill the long-distance gap, they also found it necessary to maintain a significant local inventory level and develop close customer ties. This matched the western pioneering ethos of the time, and to this day is consistent with Viking Pump's idea of speed to market. Under current president and CEO, Andrew Ragen (grandson of Mr. Novak), the company has a pride in its history and is excited about the future, which includes the delivery of innovative pumping solutions (including custom designs) to thousands of customers, who use millions of Viking pumps in some of the world's toughest applications.
Image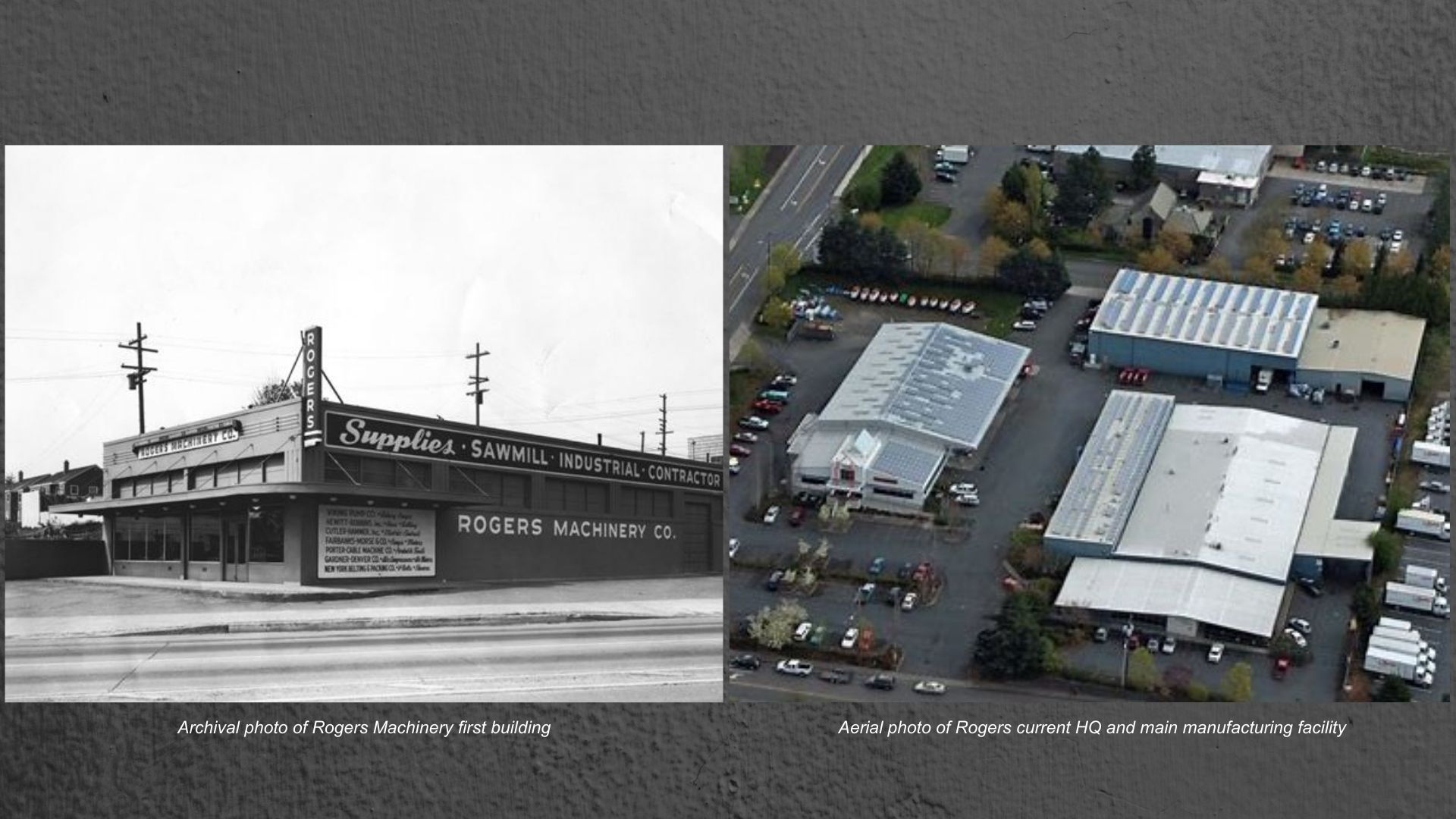 Location, Markets, & Products
The Rogers Machinery corporate headquarters is still located in Portland. This is also where the company's oil-free compressor manufacturing is done (in a 100,000 square-foot plant), along with Centralia, Washington, another large manufacturing facility (recently expanded by 50,000 square feet), where Viking pumps are packaged. Additionally, branches for pump sales, parts, and service can be found in a number of locations, such as Nampa, ID; Seattle, WA; and Sandy, UT to support the needs of their particular Viking territory. Several sales/service technicians are also strategically located close to customers for quick response. Andrew Ragen says, "No customer is too small. Everyone deserves outstanding customer service."
Over the years, Rogers has grown to cater to the asphalt, chemical, and paint markets, as well as other markets where Viking, it's primary pump line, has successful solutions. In fact, they share this slogan on their website, "From chocolate to asphalt, we have a pump for every application." Pumping hot vegetable oil is also a big business worldwide (think French fries and tater tots), and Rogers works with OEMs involved in food processing equipment and systems to ship Viking gear pumps (4124A Series™) in a variety of sizes. Degreed engineers, as well as 'practical' engineers, apply their knowledge at these and other industrial worksites in a consultative manner with facility managers to get the best results. The company is experiencing rapid growth and expansion, nearing 290 employees, mostly working in the Pacific Northwest.
How We Win Together
Rogers Machinery has had a wonderful, long-standing relationship with Viking Pump since Mr. Rogers and Mr. Novak opened their doors 70 years ago. The two companies are aligned on providing customers with reliable, high quality, long-term engineered product solutions. They have also both made significant investments in people and market coverage to maintain a leading edge. Working in collaboration, decision-making is focused on maximizing customer value and handling issues in a pinch, with competitive pricing always a key consideration. Overall, there is a shared competitive spirit to take on challenging projects and win. For example, a recent win with Viking pumps involved a major oil and gas refinery in Puget Sound, where high quality, energy efficient API-compliant transfer pumps (large RS size) were installed for a high profile, unloading application. Following this successful application, kudos were received from the international energy company for packaging and attention to detail. This project reflects what Andrew describes as "doing difficult things well." He goes on to say, "That's the fun part, the technical part, as well as the people who bring the technology to the market."
For more information, watch this video about Rogers Machinery or visit their public website at Rogers-Machinery.com.