Viking Pump® is proud to spotlight our longest distributor – Kerr Pump & Supply. Relationships with our talented global stocking distributors make it possible to meet the needs of our mutual end user customers. They are factory trained, have long histories with Viking Pump, and in Kerr Pumps case, have enjoyed over 100 years with us serving the pump industry.
Tom Gross, President of Kerr Pump & Supply, was interviewed to learn more about the company's working relationship with Viking Pump.
Background
Kerr Pump & Supply, a notable first distributor of Viking pumps, has an illustrious 100+ years business history in the Detroit area. The company began manufacturing electric and steam driven centrifugal pumps under the name of Kerr Machinery & Supply, founded in 1905 by Alexander M. Kerr, along with his two sons, David and Robert, and incorporated in 1907. A profile written about Robert Kerr in the book, The City of Detroit Michigan, 1701 – 1922, Volume 1, highlights his business ethics: "As the head of this and subsidiary companies, he succeeded in building up a business second to none in the state, achieving splendid results through honesty, square dealing and by reason of the value and worth of his products." These same practices have been carried on through generations and continue today under the leadership of Tom Gross, who has been president for the past five years. Viking is, therefore, proud to have them as a high integrity partner helping customers solve their challenging pumping needs.
Image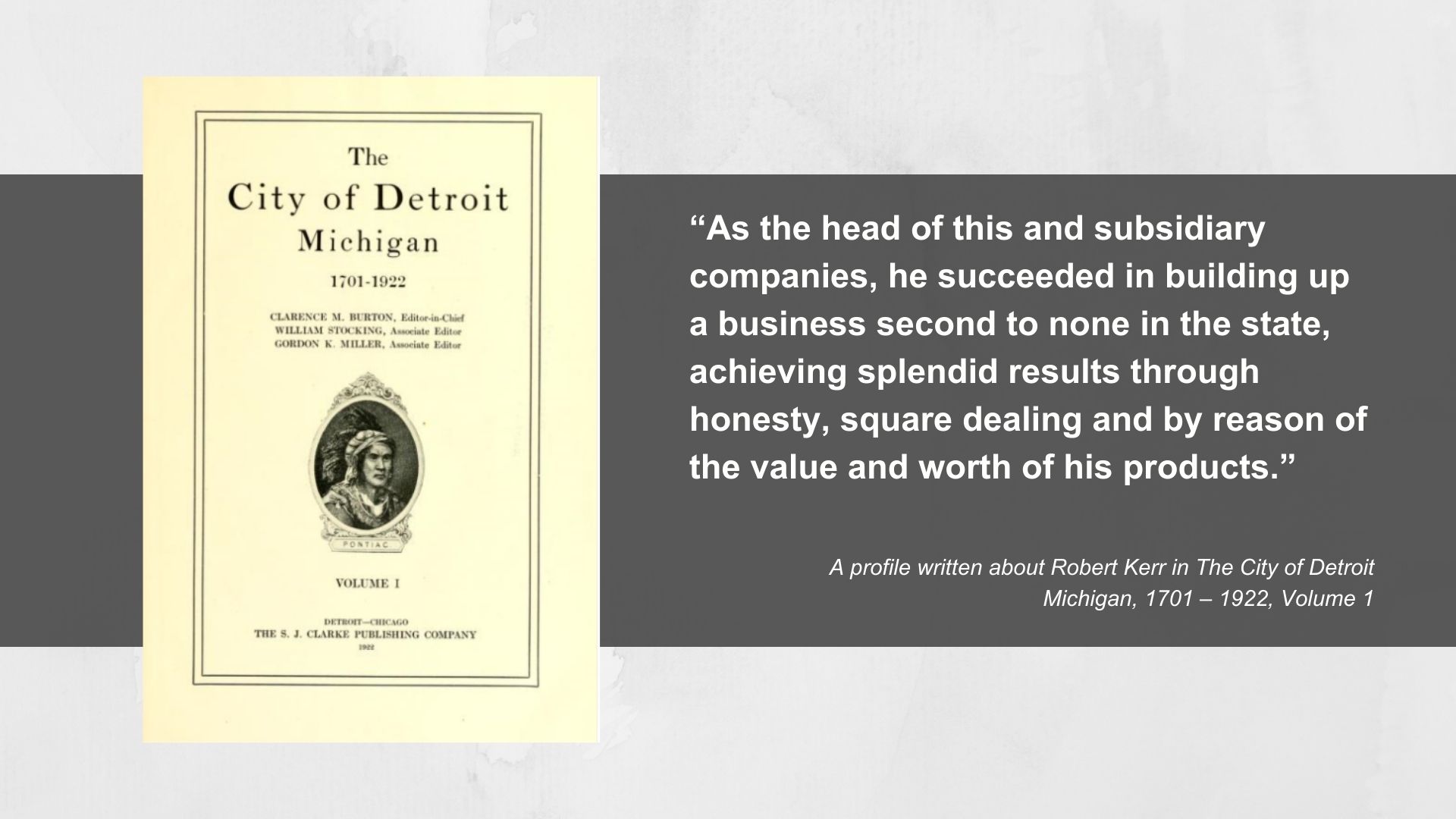 Location, Markets, & Products
Headquartered just north of the Detroit city limits, the company initially ran its operations out of the basement of the Dime Bank Building in the heart of the city, where they successfully built pumps until 1914. Growth and expansion led to the enlistment of the famous architect, Albert Kahn, to design the modern 6-story Kerr Machinery Building, located at the corner of Fort and Beaubien streets. In 1964, they moved to what is their current facility. It is here that they manufacture the Kerr and Haynes line of vertical process and vertical sump pumps. Additionally, they represent over 50 different lines of pumps (Viking remains a top line)—from gear pumps, to centrifugal, vacuum, and air operated pumps—as well as other products, like heat exchangers, blowers, tanks, valves, packaged systems, and control panels. These offerings span diverse industrial applications, providing solutions for manufacturing processes, municipal projects (water and wastewater), and interesting one-off jobs, such as helping with a pump motor issue at the Detroit Zoo. The office maintains a streamlined work environment, employing a core staff of 49, including seven outside salespersons, with 95% of the products sold within the state of Michigan.
Image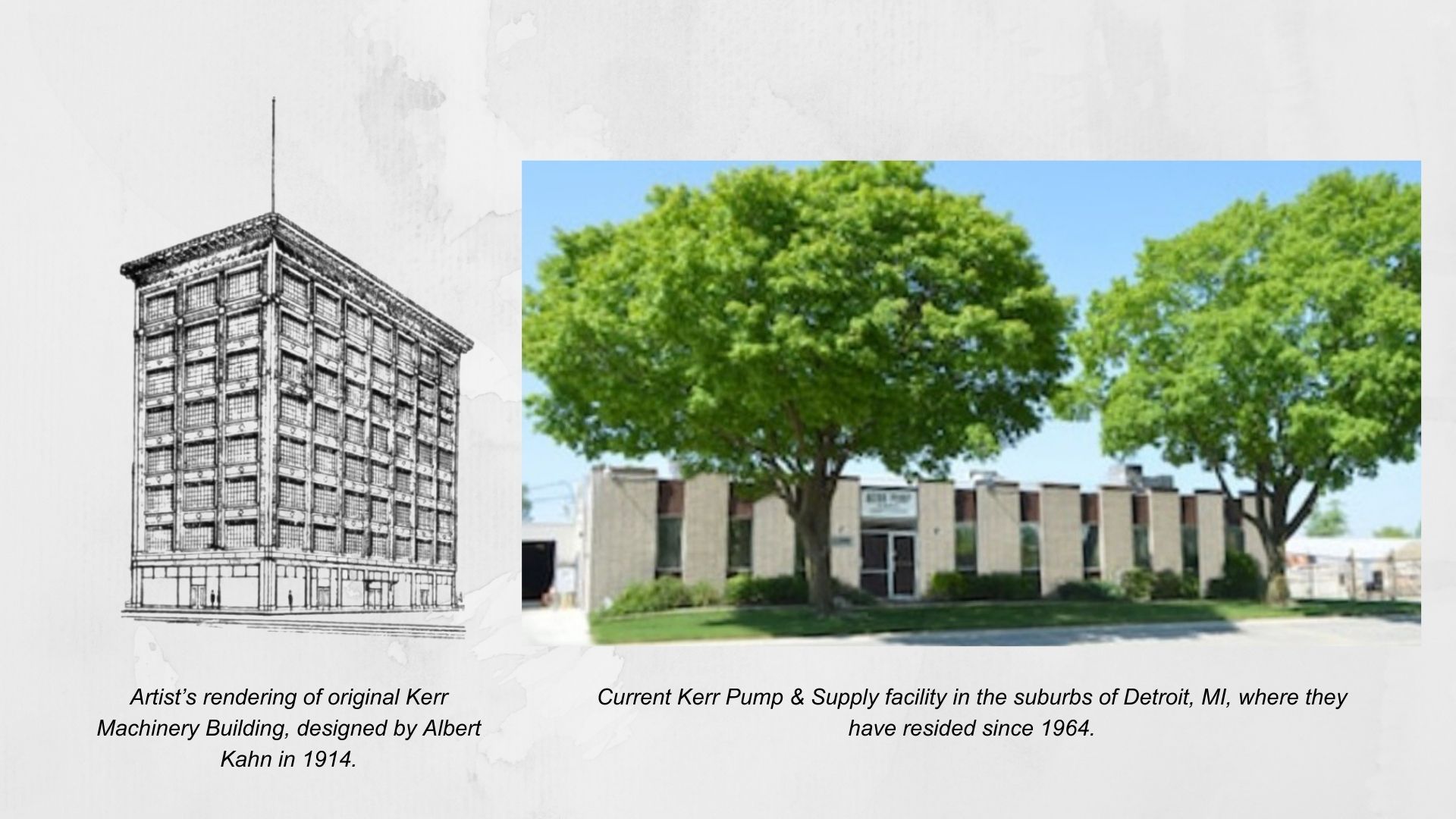 How We Win Together
Kerr has been a loyal distributor of Viking pumps, dating back to the early 1900s, when they started promoting the rotary pump line, and show no sign of  slowing down as they continue to embrace the latest Viking technology (e.g. Vikings New Chocolate Pump the 224A-CHC Series® with the O-Pro™ Barrier Seal). A recent "big win" using Viking pumps involved the resolution of a housekeeping and safety issue with a major chemical manufacturer. Leaking competitor gear pumps were causing problems for plant personnel and they were facing fines if not rectified. Kerr replaced the "bad actors" with (6) Viking HL8124A Mag-drive gear pumps. The installation was a huge success and has led to several more opportunities at the same site.
Image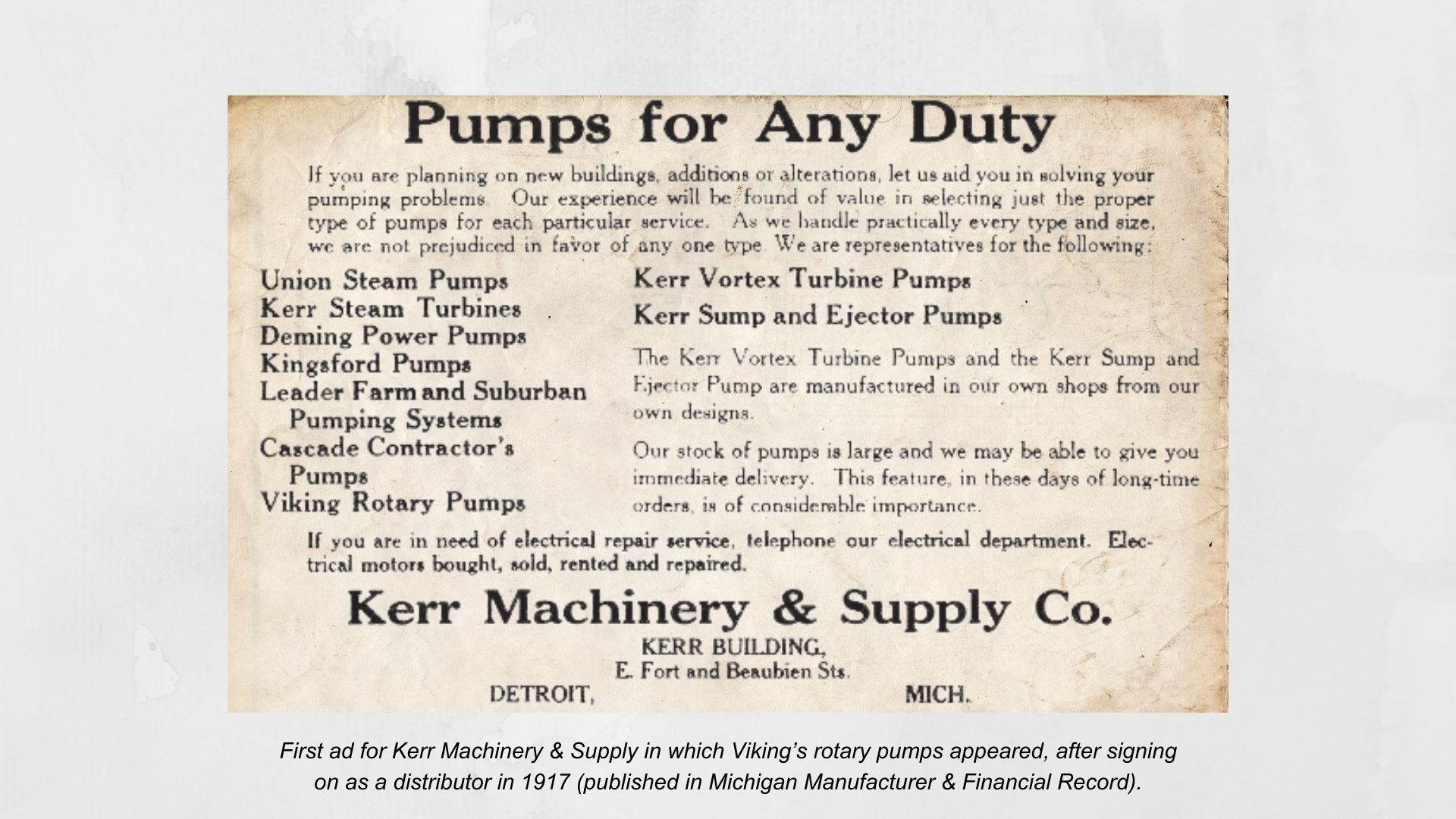 The relationship between Viking and Kerr is still evolving, as together we seek to improve product quality and customer satisfaction. According to Tom Gross, "The implementation of 80/20 segmentation, and the "SmartSite®" and "SmartStock®" programs (pump audit and inventory tools, respectively) are prime examples of Viking's commitment to lower costs, while helping the distributor better assess its customer base and inventory needs." Viking's initiative to move away from product complexity towards standardization has also improved both lead times and pricing. Tom says, "This approach benefits everyone. We can offer a pump with high-end components as 'standard' and because Viking is purchasing these components in bulk, our costs are less. On the customer side, minimizing the number of pump combinations reduces their inventory requirements." 
As he researched the company's history in preparation for their Centennial celebration, Tom Gross came across the archival photos shown in this article. 
Kerr Pump & Supply is Michigan's oldest and largest distributor of pumps. Watch this video to learn more.
Visit Kerrpump.com for more information.